Beautiful teeth reflect a higher self-esteem.
Life, however, also leaves its traces on teeth. A light-hearted smile, however, remains a dream for numerous patients with conventional restorations. For more than two decades there has been an alternative: the implant – the artificial tooth root.
Thanks to firm integration in the jaw, this solution allows to produce restorations which are almost identical with your natural teeth. This way your individual appearance and quality of life are retained when eating, laughing and speaking.
The aging process can not be stopped. But together with your dentist you will find a perfected, individual and reliable implant solution to accompany you through all stages in your life.

About implants

Artificial tooth roots and their benefits
The loss of teeth can occur in all stages of life. Whether you require treatment as a young person after traumatic loss of teeth or as an older person with partial dentition or edentulous jaws: implantology offers you a modern and proven alternative to conventional restorations and can generally be applied in all patients after completion of bone growth.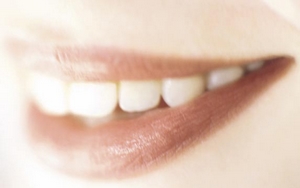 An implant is an artificial tooth root. It is firmly integrated in the bone substance and thus allows intensity of biting and chewing identical with that of natural teeth. Adjacent teeth do not need to be ground or used as abutment teeth; accordingly, the loss of healthy tooth substance is reduced considerably. Bone atrophy which is typical for conventional treatment methods is avoided by an artificial tooth root. Therefore – especially in cases of edentulous spaces – long-term restorations can be integrated. And since you need to bite throughout your life, an implant will ensure increased aesthetics, function and hence quality of life in every single moment you intend to present yourself with the safe feeling of healthy and firmly fixed teeth – even if these are your "third teeth".
Implants are less expensive than you think. Talk to your dentist. He will inform you about the percentage of costs borne by your health insurance company.
Structure of the implant

How does an implant look like, and what does it consist of?
Structure of an implant: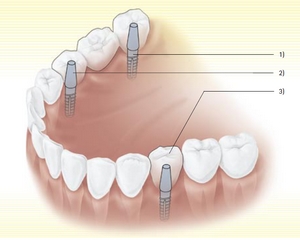 The implant body. It is firmly integrated into the jaw bone and thus fills the space of the natural tooth root.
The implant abutment. It forms the transition between the implant body and the prosthetic restoration (supraconstruction).
The prosthetic restoration.
Materials:
The implant root and the implant abutment normally consist of titanium. This material is particularly biocompatible, reduces the risk of allergies and features quick and firm integration in the bone. Alternatively, zirconium abutments are used to achieve enhanced aesthetics.
They are entirely metal-free.
The price of surgical insertion and re-opening is 550,00€.
The price of the implant (the implant body) is 250,00€.
The price of the implant abutmant (depending on the materials used) is between 170,00 and 350,00€.
The price of the prosthetic restoration is between 300,00 and 400,00€.

Possibility of using implants
Single tooth restoration: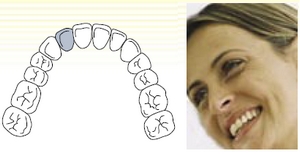 In this case, e.g. after loss of an anterior or posterior tooth, the original speaking behavior, safe chewing and the appearance are restored by anchoring an individual implant body and fixing a restoration on top of it.
Treatment of partly edentulous jaws
Implant placement represents the only solution for fixed restorations also for cases of large gaps or several missing molar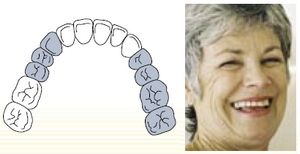 teeth at the end of the arch. Depending on the size of the gap, the stress requirements at this point of the jaw and your specific anatomical conditions, one or several "pillars" can be anchored to support the prosthetic restoration.
Treatment of edentulous jaws
Depending on the number of implants, your dentist will be able to offer you various options: implant-supported and removable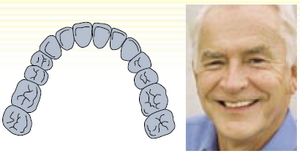 or fixed restorations. Both options require the presence of sufficient bone material to be able to insert several implants. For fixed restorations, individual teeth or bridges are attached to the implant. The removable but implant-supported restoration (can be subsequently integrated into the existing denture) allows higher intensity of chewing than conventional dentures and thus offers clearly enhanced reliability and quality of life.

Course of treatment

The treatment course
Take your time for this important matter!
Recording the situation of your dentition and jaw situation as well as preparing your individual therapeutic plan are essential and necessary preconditions.


In most cases the implant is placed under local anesthesia in your dentist's practice. After placement, the implant is left to heal for a period of 1 to 6 months. Normally, your prosthetic restoration (single tooth, bridge or full denture) is fitted in and anchored firmly after the healing phase. In special situations the entire implant restoration can be completed and integrated already during the first treatment step.
For your dentist this will be an everyday, routine treatment procedure. For you it will offer the guarantee to fully depend on your teeth in all everyday situations – since you certainly eat, speak and laugh every day.
View the implantation of dental implant clip:
Maintenance of implants

Aftercare and caring for your new teeth
Just like for natural teeth, regular checkups (recall) by your dentist and thorough oral hygiene will maintain the long-term function of your implant.
Careful daily cleaning can essentially contribute to a long life of your teeth. Your dentist and/or the dental team will ge glad to answer your questions on the subject of tooth care.